Big news! We're the first dating app to offer people the ability to match and go on virtual adventures powered by Airbnb, Walk, and Viator (part of TripAdvisor).
Here's how it started.
The Coronavirus is lockdown is really getting to me and everyone on the Fairytrail team. Many of us are feeling like we're going crazy– gaining more weight and developing more anxieties from the lack of social support and interaction.
This is unlike normal remote work conditions. As a remote workers, we could go to to the beach. Hang out with friends. Go out on dates. Go to the gym, fitness classes, and church. Travel.
We're not alone.
With travel restrictions and shelter-in-place, nearly half of Americans report that the coronavirus crisis is affecting their mental health. And an alarming projection from the national public health group Well Being Trust estimates that 75,000 Americans could die from drug or alcohol misuse and suicide related to COVID-19. "You're having feelings of isolation and loneliness like you've never had before," says psychologist Dr. Kevin Gilliland.
Virtual travel dates.
Viator launched live virtual tours a few weeks ago as a way to keep travel alive in some way.
At first we were hesitant, but reviews from people who have done it reminded us that travel isn't just about seeing the site and taking photos. It's also about the stories, history, meeting people, and experiencing cultures.
Here's one review from a person who went on a virtual tour:
"This was my first ever virtual tour and I had no idea what to expect. It was essentially a super-interactive conference call with a super host. Lula was very energetic and knowledgeable guide. Although you are just sitting in front of your computer for the whole thing, he kept the experience very engaging and informative. Great value for money and a really nice way to spend an hour."
– Mairt, Magic of Film Themed Virtual Tour of London
Could this be a novel way for people in lockdown to connect, be entertained, and build a relationship in this challenging time?
These virtual adventures allow us to learn new things, meet people from different cultures, and experience something live and fun with people we like. They start at only $6 and are available worldwide.
So we decided to add it to our app. Video call dates are great, but can just talking all the time can get stale, especially for those who have been talking for weeks.
How our app works.
Single people make a free profile on Fairytrail and match with each other (just like on Tinder or Bumble).

Once users match, Fairytrail recommends different virtual tours to them from Viator and Airbnb based on their profiles. Users aren't able to talk at this stage. They simply choose the tours

they

like.

If there's overlap in the tours picked, Fairytrail connects the users to talk and show them the cheapest matched tour. They can message, video call, and even book the matched tour.
Examples.
Pick adventures from this screen.
When you tap an adventure, you see the details.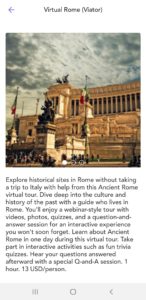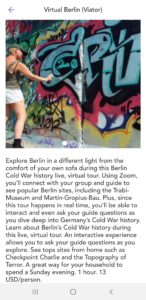 We're excited. Looking forward to you guys trying it out! Let me know your thoughts. Download the app here.
By the way, you can still match on destinations for future travel. We haven't removed that function.