We destroyed the iPod business with the iPhone. At Fairytrail, it's no different. We believe we can only be successful when we put our users' interests ahead of ours. Here's how we are reinventing the online dating business.
—
Dear Brave, Early Explorers of Fairytrail,
We are at 200+ strong monthly active users just a couple weeks after our soft launch. Not bad. We purposely haven't issued a press release yet because we are still perfecting Fairytrail with your help.
Talking About A Revolution
We sincerely appreciate your input as we build towards a revolutionary online dating app with a business model that is closely aligned with user interests.

Most online dating apps want you to be addicted to their screens so that they can keep earning billions of dollars from subscriptions, power-ups, and ads. Even if you aren't paying, they want you addicted to their platform for their paying members. There is a serious conflict of interest.
We are different. We understand users want to find someone, so they get on with their lives– to have amazing life experiences with someone they like. We give our users exactly that and our main revenue stream is tied to that. Just like Uber and Lyft sell rides because customers want rides — we sell adventure dates because our users want breathtaking dating experiences.

We also have a travel product planned for couples that we successfully bring into a relationship, so we won't lose 100% of our users. Unlike other dating apps, we aren't afraid of being too successful. Our incentives are morally and financially aligned with our users'.

When I worked at Apple, Steve Jobs preached cannibalizing our own business. We destroyed the iPod business with the iPhone. At Fairytrail, it's no different. We believe we can only be successful when we put our users' interests ahead of our own.
Here are three of the many changes we implemented last week because of you.
Thank You, Dana
Dana didn't like how we limited her to only seeing about ten new people per day. On Bumble or Tinder, you can easily swipe through hundreds of people per day.
We have a limit to prevent people from getting burned out on dating (just like Coffee Meets Bagel does). People should enjoy their lives and not be addicted to online dating apps.
We want to be in the background, so people can focus on living in the moment. And every day, we'll sprinkle their lives with like-minded, kind people and travel opportunities.
We want to break screen addiction. We don't think it's healthy to be glued to apps. In fact, I use an app that locks up my screen when I spend too much time on it. We believe in being present with what's around us, improving our real lives, and not missing the magic of the moment by focusing on what's to come.
With that philosophy in mind, we designed our app to be non-invasive in terms of bringing you new people and opportunities.
After we explained this, she was excited and in agreement, but pointed out our app doesn't explain any of that. It just leaves users in the dark.
So we've improved our messaging.
That said, we recognize that people want to start connecting with others as quickly as possible. This means we will increase the number of people per search once we have more users in the coming weeks.
Thank You, Steve
Steve felt our online dating app wasn't lively enough. There wasn't enough buzz. He wanted to connect with other digital nomads and loves the community that we are building. He's curious about other people's exciting lives and wants to engage with them non-romantically.
So we introduced Fairytrail Campfire…
Fairytrail Campfire is a place where like-minded world explorers can connect in a social, non-romantic setting. Where they can share stories, what they're up to, opportunities, and connect outside of dating.
Thank You, Mark
Mark said that Fairytrail was his travel inspiration app. He loves the feeling that he could be off on an adventure at a moment's notice. They say dreaming, planning, and talking about travel can be as exhilarating as the travel experience itself.
From PsychCentral:
The effects of travel aren't felt only during and after your trip – in fact, even just the anticipation of going on vacation can boost your mood. People are at their happiest when they have a vacation planned, a study by the University of Surrey found, and are also more positive about their health, economic situation and general quality of life.
A study by Cornell University also found that we get more happiness from anticipating a travel experience in comparison to anticipating buying a new possession. It turns out that money can buy you happiness, but just not in the way we expected!
So we've added a little travel fund to help you anticipate your next trip. Every time you search, there's a chance that Oly, your little dating sidekick, can find travel credit on his path. Just add the travel credit to your profile, and you can use it when booking your adventure.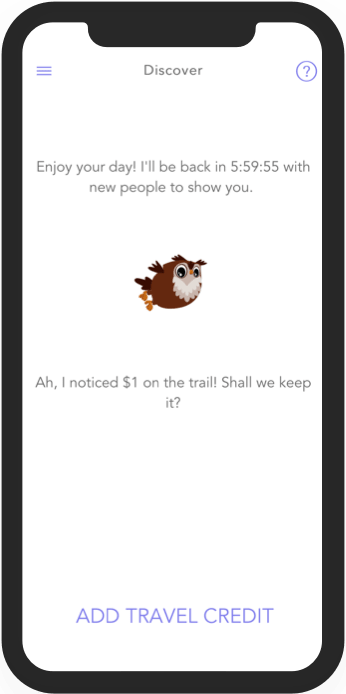 We hope over time, you'll contribute your own funds to this, so that you budget for amazing life experiences with people who've done things like, "Hiking through the hills in Myanmar" (F34), "Camping on the Great Wall of China"(F26), "Gorilla trekking in the DR of Congo" (F40), "Taking a dive into the Amazon" (F30), "Flying to India on a whim with two friends to sit in silence for 10 days to learn Vipassana meditation" (M25), "Bribing my way into a Bolivian prison" (M36), and "Escaping a charging rhino by climbing a tree in Nepal" (F29).
On a side note, I'd like to include screenshots of the users mentioned above, but I haven't asked for their written approval. If you'd like to volunteer yours, just let me know!
One Last Note About Who You Are Recommended
My friend Mike recently asked, "Why don't I see more users?"
I told him, did you know we reject about 30% of people who sign up? You'll never see those people because they're hidden from search. Disapproved people are those who we don't think are suitable for our platform due to bad photos, poor culture fit, safety or risk factors, and lack of sincerity in their profile.
We also don't show you all the users.
We only show you people who are looking for the same type of relationship. If you are looking for a casual fling, we're 100% not showing you someone who's looking for a serious relationship.
We don't show you users who've already passed on you. What's the point of impressing you with the profile of a beautiful person if there's no chance you'll match?
We do put people who liked you in your search results first, so we don't keep them waiting.
Everything we do is designed to create the most value for our users. That means we optimize for matches, interactions, and magical travel experiences.
If you have any feedback for us so we can serve you better, please contact us or leave a comment below.
Thank you for joining us on this journey,
Taige & Fairytrail Team
Fairytrail is a travel adventure dating app that connects single travelers on group journeys and activities. Its mission is to help people explore the world's cultures and places with someone they like.
Book Adventures With Someone You Like